SAICS Schools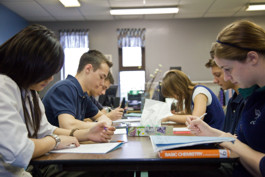 As of February, 2010, SAICS has twelve member schools. It remains the largest group of church schools in Canada using ACE's individualized, mastery based program.
Almond Tree Christian Academy, Canora
Grace Christian Academy, Saskatoon
Heritage Christian School, Battleford
LifeWay Christian Academy, Saskatoon
Morning Star Christian Academy, Regina
Prairie Christian Academy, Saskatoon
Regent Christian Academy, Prince Albert
Canadian Revival Preparatory School, Prince Albert
Yorkton Christian Academy, Yorkton
COURSE Materials

SAICS has developed Christian curriculum (where none other was available) to match Saskatchewan Learning objectives for high school courses.
View Our Course Listing
ORDERING Courses

Find out more information about ordering courses that have been developed by SAICS including score keys and associated textbooks.
Ordering Information
CONTACT Us Online

If you would like more information about the services that we provide, please use our online contact form to send us a comment or question.
Contact SAICS Online